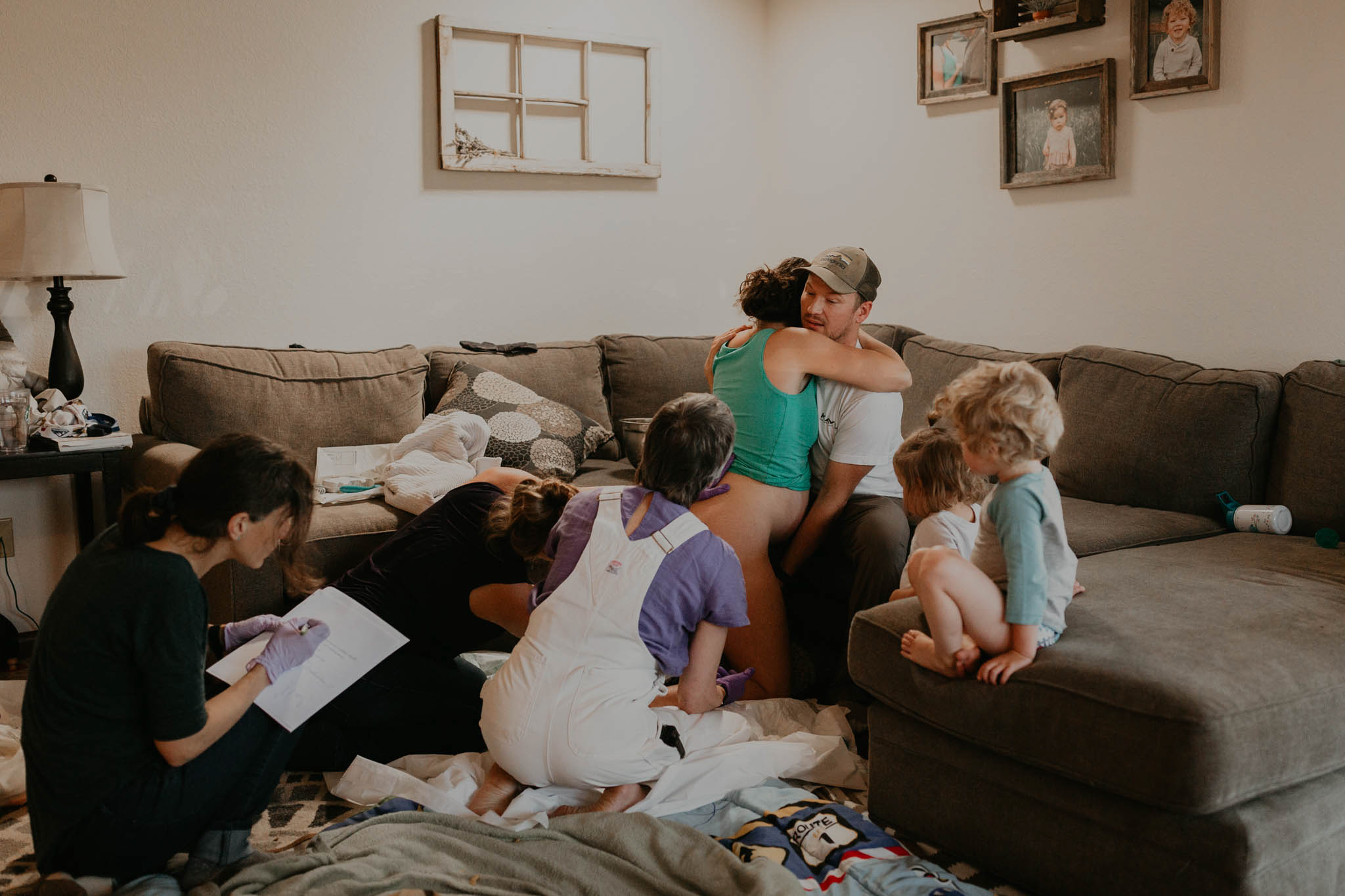 Thank you for considering me to photograph your upcoming birth! I am honored by the opportunity to document your family's story. I am deeply passionate about the birth process, and I promise to give 100% of my talent and capacity to tell your story. My intent is to capture your journey - your strength in labor, all the love that surrounds you, and the delivery of your baby into this world. I hope to provide you with a legacy of photographs to pass down to your children and their children for generations to come.
Birth and labor are unpredictable. The lighting may be dim, hours can be long, and planning what's going to happen can be difficult. Hiring a birth photographer frees up your support people and ensures that you get those important moments captured.
As a mother of three, I am sensitive to your needs because I understand that my role is to document quietly and unobtrusively. I shoot your labor and birth as they unfold in a photo-journalistic style. Having been on both sides of the birth process, I also understand which special moments you will want captured forever.
Birth photography is tough because there are no second chances, and that's one reason I love it. All photographers have specialties, and this is mine. I thrive under pressure and have the speed and technical skills to capture your moments as they happen, and to do so unobtrusively. I also know how to use my camera in low light to avoid bouncing flash during your labor. I have established relationships with midwives and doctors in our community, as well as doulas, birth educators, lactation consultants, and nursing staffs.
Photographic prints are an important part of what I do. I want you to be able to sit on your couch or cuddle with your new baby while flipping through beautiful, archival-quality prints. I want you to hang an oversized print in a place you'll walk by every day. I want you to feel proud when you're brought back to the day that you were the strongest and most loving person you have ever been. I want you to smile when you need a smile, to cry when you need to let it out, and to remember the beauty in that day when life feels overwhelming.
I am fully licensed and insured in the state of Washington and I'm a proud member of the International Association of Professional Birth Photographers. I will document this part of your journey with love, compassion, and emotion. If you feel the desire to tell your story, this is the one of the most powerful and authentic gifts to bestow upon your family.
"Some photographers take reality... and impose the domination of their own thought and spirit. Others come before reality more tenderly and a photograph to them is an instrument of love and revelation."
-Ansel Adams
Q: What is Birth Photography?
A: For me, Birth Photography starts with a personal relationship established between the client and photographer. It's important for me to get to know you, as well as I can, in the few hours we'll spend together before your big day. The more time I spend with you - learning about you, your relationship with your partner, and your thoughts/fears/expectations/plans for your big day - the easier it will be for me to tell your story. I would hope that if you're considering me as your Birth Photographer, you are drawn to my work. Some clients put their full trust in me, and ask me to 'do my thing', capturing their story as it unfolds through my lens. Other clients have very specific reasons for wanting their journey documented. Sometimes there is happiness, and sometimes there is sadness. We'll dig deep and figure out what it is you'll want to remember looking through your photos in five, ten, and twenty years. Often times, it's your journey throughout labor and delivery that I am most drawn to. I see strength in a woman's ability to show up, to be strong, and to deliver their little one(s) with love and grace. I see your partner's ability to show you support, tenderness, and love. I see your care providers respecting your decisions, and providing a safe space for you to labor and deliver in. These elements together create the background and lead up to the ultimate climax, where you'll deliver your baby and hold him/her in your arms. From there, I'll spend some time photographing baby's first moments: Their first cry, their weight, footprints, their first nurse, etc. I aim to tell a complete story that will allow you to remember what life was actually like for all involved on this incredibly special day.
Q: What happens if things don't go as planned?
A: It's okay! It is 100% okay. During our first meeting, we'll discuss my role on your birth team, and what your desires are if things are not going as planned. In most cases, I will go with the flow – and follow you where you go, to continue to document. I believe that everyone's story has value, even if you don't have the birth you envisioned. My job is to see the beauty, capture it, and deliver it to you.
Q: Can't my husband/partner or doula take photos at my birth?
A: Unfortunately, no. Your partner and any member of your birth team there to support you will be doing just that. It's also very important to understand the technical aspects of photographing in low light, and to have professional equipment that handles the difficulties of shooting a birth. I find it equally important to have an understanding of the birth process so that I can be as unobtrusive as possible. I'm respectful of your space and bring calming energy throughout your experience.
Q: Why is Birth Photography so expensive?
A: This is a great question. Birth Photography is expensive because of the time commitment it takes to be a birth photographer. I am on call from week-38 on. Which means that I could potentially be on call for up to four weeks, during which time I do not travel more than one hour from my home – and usually my husband and I are driving separate vehicles during this time. When I am called to a birth, I do not put any time restrictions on my birthing mama. The most time I've spent at a birth is 26 hours. After the birth, I then have 10-20 hours of pure editing time ahead of me, not counting all the time I'm reveling in your birth experience, pondering and contemplating, and absorbing your story so that I can tell it through your imagery.
Q: Do you only deliver Black & White? Or color as well?
A: This depends on the lighting at your birth! If we have some nice light, I will always go through the extra effort to deliver a set of Black & White AND Color. It there is consitently low light throughout, I may pick and choose which photos I will deliver in color. Other times, I will deliver all Black & White. If you have a specific preference, we'll go through all available options to maximaze the light at your birth.
Q: What kind of gear do you use?
A: I use a Canon 5Diii body, and have two Canon 6D's as back-ups. I'm a prime girl, and will bring my 24 mm f/1.4L ii, 35mm f/1.4L ii, 50mm f/1.2L, and 85mm f/1.2L lenses to your birth. I always shoot with a silent shutter. Your images are recorded on two separate cards in my camera, and then immediately uploaded on two hard drives after I arrive home.
Q: Do you use a flash?
A: No. I shoot all images in available light. I think that flash is obtrusive and unnecessary. Please steer clear of a photographer using flash during labor or after deliver, and inform all family and friends to turn off their flashes as well. Not only are studies indicating that flash can harm your new baby's eyesight, flash causes the exact opposite type of energy that I want to bring to your birth.
Q: Will you post my story on your website/social media?
A: This answer is different for every birth I shoot. I will not shoot a birth without a signed contract/model release; However, I always respect the privacy of my families. When I deliver your photos, I ask you to mark any that you prefer I didn't share. When I create a blog post, I will share it with you first, and ask your permissions. Most clients are very proud of their birth story and want to share it with the world! However, I am not a big sharer myself; I understand and value privacy – both my clients and mine.
Q: Do you offer a military discount?
A: Yes! I offer all military families $100 off their birth session fee.
Q: Do you offer a doula discount?
A: Yes! I offer all families hiring an experienced, professional doula at their full rate $100 off their birth session fee. I value doulas with all of my heart and encourage all of my clients to explore the option.
Q: Do you offer any other discounts?
A: If you are paying for midwifery care out of pocket because your insurance plan does not cover it, please contact me to talk about a payment plan option.
Have more questions? Feel free to ask! Click here to get in touch.
Birth Photography Investment
You Birth Photography investment begins with your session fee. Then, add on the package that speaks to you below.
Session Fee - $1,000
One or two Prenatal visits (depending on your needs). We will discuss your birth plan, what to expect, which moments you would like captured, my role on your birth team and vision as an artist.
Unlimited phone/email communication throughout your pregnancy and postpartum.
My time and talent: I will be on call for you 24/7, from week-38 on. I will arrive at your birthplace when you are in active labor and stay through baby's newborn exam. In addition to my on call time the month around your due date, I will be at your birth for 10-15 hours (on average; no time limit).
10 images on a password protected page on my website, within 48 hours of your birth.
Opportunity to add a newborn or maternity session at a discounted rate.
$400 non-refundable deposit to book your EDD, with the balance due by 37 weeks.
Minimalist - $500
75-150 high-resolution, artistically edited images + a print release. Images will be presented in a password protected on-line gallery for easy viewing, sharing and downloading.
Archival - $750
Custom USB with 75-150 high-resolution, artistically edited images + a print release. Images will also be presented in a password protected on-line gallery for easy viewing, sharing and downloading.
A full set of archival quality prints of your session.
Heirloom - $1,000
Custom USB with 75-150 high-resolution, artistically edited images + a print release. Images will also be presented in a password protected on-line gallery for easy viewing, sharing and downloading.
A full set of archival quality prints of your session.
3 11" x 14" mounted prints
A beautifully designed 10" x 10" 20 page album telling your family's story.
*Prices listed do not include sales tax; WA state sales tax will be added at time of payment. Payment plan available upon request.
When should you book? As soon as you decide you're interested. I take limited sessions per month due to the nature and unpredictability of birth. That being said, it's never too late to inquiry about availability. I look forward to hearing from you!
Birth Photography Questionnaire
The only reason that I am here, in this virtual space with my art, is to show you what I do and how I can be of service. I am eager to hear what you are looking for and how we can work together. I believe that every project I embark upon is a collaboration, so I may challenge you to dig a little and bring to light some ideas of your own. Art is an investment, financially and emotionally. I look forward to hearing your story, really knowing and feeling it, and helping you to tell it.
Email me directly: sara@sarakrebsbach.com or fill in my client questionnaire: